Master's Degree Programs
Seek Your Advanced Degree With a Renowned University
Download a Program Brochure
Receive your free program brochure and learn more about Winthrop University's programs by completing the form below.
Note: All fields required.
No. 6 Southern Public University1
No. 18 Regional Public and Private Institutions1
No. 6 Best College for Veterans1
14 to 1 Student to faculty ratio
Get an Education Backed by Character, Quality, Excellence and Community
Discover an online or on-campus education that balances convenience and quality at Winthrop University. We offer student-centered experiences elevated by personal attention, small class sizes and opportunities to collaborate with your faculty and peers. You'll also take classes that blend professional growth, global awareness and civic engagement, developing knowledge, skills and values that position you for success.
Winthrop incorporates emerging technology into each program, enhancing the academic experience for all students. Plus, get access to support services that bolster your performance in programs dedicated to rigorous standards.
Prepare for a more promising future with a master's degree from Winthrop University. Take the first step by completing the form to receive a free brochure.
Winthrop is a public, comprehensive university committed to excellence, ranking among the top institutions of our kind in the nation. With our highly qualified faculty and high-quality curricula, we attract a diverse student population dedicated to achievement and social responsibility.
Enriching lives and preparing students for the future for more than 135 years
Accredited by the Commission on Colleges of the Southern Association of Colleges and Schools
The Princeton Review included Winthrop on the 2022 Best Colleges list (Southeastern category)2
Offering a student-centered experience with opportunities to collaborate with your instructors and peers
Find Your Program
Discover graduate programs that foster success in many in-demand fields.
36 credit hours. 2 years.
Develop a dynamic skill set, creative initiative and humane integrity as you prepare to thrive in nonprofit arts environments. This online program combines the latest theory and academic research with applied learning to help you advance into arts administration and leadership.
30 credit hours. 2 years.
Gain a range of literary, rhetorical, and pedagogical knowledge to build the strong communication and editing skills needed to go farther in your career. Choose from various elective courses, a writing concentration, and two writing certificates to graduate with a master's degree personalized to your goals.
30-36 credit hours. 1-2 years.
Build skills in economics, data visualization, research, marketing and more in this AACSB-accredited master's program. Gain the core knowledge you need for success and choose from our four concentrations in finance, human resources, marketing and strategic leadership.
30 credit hours. 2 years.
Gain the skills needed to succeed as a business leader in the MBA program with built-in micro-certificates in Business Analytics, Financial Analysis and Leadership in Organizations. You can also select an optional concentration to strengthen your marketing or leadership expertise.
30 credit hours. 2 years.
Complete this AACSB-accredited program to develop expertise in business topics and earn built-in certificates in Advanced Accounting and Accounting Analytics. Take additional coursework to prepare for the CPA exam.
30 credit hours. 1-2 years.
This comprehensive program supports students in developing skills in instructional design, e-learning, multimedia development and more. Graduate ready to design, develop and evaluate learning and performance support materials for any professional learning environment.
60 credit hours. 2 years.
Explore a wide range of media to become a diverse artist with an accomplished body of innovative and creative work. You'll learn to address a broad range of possibilities for communicating visually and conceptually in this NASAD-accredited program.
30 credit hours. 2 years.
Launch or advance your dietetics career with a university that has been a leader in dietetics for over 100 years. You'll engage in evidence-based instruction to achieve your goals in exercise science, biology, chemistry, public health and other human nutrition fields.
36 credit hours. 2 years.
Prepare to direct sports and fitness programs on behalf of private, public and nonprofit organizations. You'll take engaging online courses that explore the science of sports and physical activity through an administrative lens, getting the option to complete a thesis or practicum.
30 credit hours. 2 years.
Learn intervention approaches that can make a meaningful difference in your students' lives, with the option to prepare for special education licensure. You'll gain the skills needed to coordinate and deliver evidence-supported interventions involving behavior, literacy and numeracy to improve student outcomes.
39 to 60 credit hours. 2 to 3 years.
With guidance from our expert faculty, you'll develop specialized skills to make a difference as a social worker. The online classes focus on empowerment practice, enabling you to promote the well-being of vulnerable populations, affirm your clients' strengths and contribute to social justice.

36-55 credit hours. 2-2.5 years.
The CAEP-accredited MAT program helps you gain initial teacher certification in the state of SC. Choose from several content areas in elementary (grades 2–6), early childhood (PreK–grade 3), K–12, middle-level and secondary education.
Discover What Makes Winthrop's Programs More Impactful
Seek your master's degree with Winthrop and experience the same rigorous curricula whether you choose an online or on-campus program. Take classes in the format that fits your schedule and get the support to succeed by engaging with our dedicated faculty and your classmates. Many of our programs bolster the coursework with hands-on learning through internships, practica, interactive assignments and capstone projects.
Request Info
The Values, Education and Experience That Matter to Your Future
Founded in 1886, Winthrop University provides a distinct, value-oriented education that enables students to thrive in the 21st century. Here, you'll discover how our commitment to service, excellence, diversity, community and leadership provide a foundation for your professional and personal development, putting you on track for long-term success.
Courses That Strive for the Highest Levels of Quality
Winthrop's accreditations attest to the quality of our institution and programs. The Southern Association of Colleges and Schools accredits Winthrop University to award bachelor's, master's and specialist degrees. Meanwhile, our MBA is among the 5% of business programs worldwide to receive accreditation from the Association to Advance Collegiate Schools of Business (AACSB) International. We also offer programs with accreditation or recognition from the Council on Social Work Education (CSWE), National Council for Accreditation for Teacher Education (NCATE) and Council for Higher Education Accreditation (CHEA).
While studying with Winthrop, you'll benefit from programs that offer enhanced access to education while meeting the needs of emerging career fields and a diverse student population.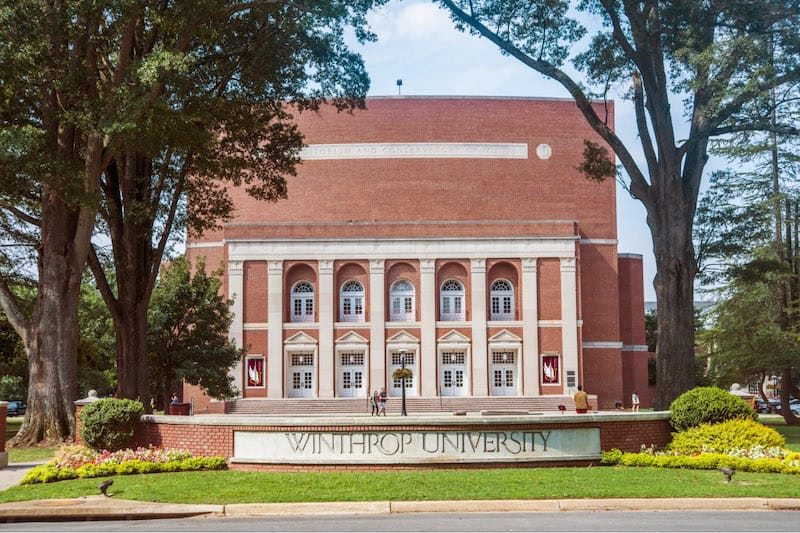 Access New Opportunities for Your Career
Jobs that require a master's degree will grow faster than any other education level, according to projections from the U.S. Bureau of Labor Statistics.3 If you want to gain qualifications for accessing these opportunities, get started in the programs from Winthrop University. Our experienced faculty provide the guidance and expertise required to thrive in business, education, social work and beyond. We design our programs for varying needs — discover an option that enables you to switch careers or take a giant leap forward in your current field.
10 Rewarding Careers for Winthrop Graduates
Marketing manager: $135,000 per year4
Manager: $102,000 per year5
Facilities manager: $99,290 per year6
Executive director: $81,476 per year7
Public art director: $67,380 per year7
Special education teacher: $61,820 per year8
Dietician or nutritionist: $61,650 per year9
Athletic Development Specialist: $52,621 per year10
Social worker: $50,390 per year11
Event coordinator: $49,470 per year12
Sources:
U.S. News & World Report. Winthrop University Rankings. Retrieved June 1, 2022, from https://www.usnews.com/.
The Princeton Review. 2022 Best Colleges: Best Southeastern. Retrieved June 1, 2022, from https://www.princetonreview.com/.
U.S. Bureau of Labor Statistics. Employment Projections: Occupations that Need More Education for Entry are Projected to Grow Faster Than Average. Retrieved June 2, 2022, from https://www.bls.gov/.
U.S. Bureau of Labor Statistics. Advertising, Promotions, and Marketing Managers: Pay. Retrieved June 2, 2022, from https://www.bls.gov/.
U.S. Bureau of Labor Statistics. Management Occupations. Retrieved June 2, 2022, from https://www.bls.gov/.
U.S. Bureau of Labor Statistics. Administrative Services and Facilities Managers. Retrieved June 2, 2022, from https://www.bls.gov/.
Americans for the Arts. Research Report: Local Arts Agency Salaries. Retrieved June 2, 2022, from https://www.americansforthearts.org/.
U.S. Bureau of Labor Statistics. Special Education Teachers. Retrieved June 2, 2022, from https://www.bls.gov/.
U.S. Bureau of Labor Statistics. Dietitians and Nutritionists. Retrieved June 2, 2022, from https://www.bls.gov/.
Glassdoor. Athletic Development Specialist. Retrieved June 2, 2022, from https://www.ziprecruiter.com/.
U.S. Bureau of Labor Statistics. Social Workers. Retrieved June 1, 2022, from https://www.bls.gov/.
U.S. Bureau of Labor Statistics. Meeting, Convention, and Event Planners. Retrieved June 1, 2022, from https://www.bls.gov/.